CTI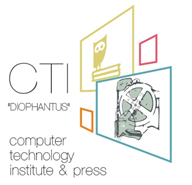 The Computer Technology Institute and Press Diophantus (CTI – www.cti.gr ) is one of the major R&D institutes in Greece specializing in ICTs. In the last 10 years, CTI has successfully participated in more than 100 R&D projects, exhibiting basic and applied research activity in areas such as algorithms, complexity and optimization, wireless and sensor networks, complex information systems design and development, embedded systems, innovative technologies for education and lifelong learning among other. Particular emphasis is placed on education, by developing and deploying conventional and digital media in education and lifelong learning; publishing printed and electronic educational materials; administrating and managing the Greek School Network; and supporting the organization and operation of the electronic infrastructure of the Greek Ministry of Education and Religious Affairs and all educational units.
The Directorate of Telematics and Applications for Regional development of CTI "Diophantus" (www.westgate.gr ) which is acting as an associated partner for the GREENET project, was established with the basic objective to enhance regional development through the effective use of new ICT for the regions covered from the institute.
Basic aims of this directorate are:
• To operate as a lever for regional development and interregional collaboration
• To carry out applied research for the development and support of specialized ICT applications for the public and private regional sectors (in Western Greece)
• To develop, support and operate information systems useful for the activities of education in Greece
Some indicative projects, in which it participated in the last years (relevant with energy consumption and innovative education activities) are:
- A pilot project for the projection of the 'green' concept to reduce energy, on selected buildings of the Greek Ministry of Education. In these buildings, the project installed an expanded sensor network (temperature, humidity, radiation, consumption in other places outside of electrical panels as boiler and elevators, pollution and air quality inside and outside, oil consumption), measuring consumed energy, supported by Information system remote management, presentation portal for the measurements, mobile devices interface, educational scenarios and feedback to the competent services of the Ministry, covering statistical analysis and targeted reports (http://greenmindset.cti.gr ).
- LLP/KA3 ICT SoRurall: coordinated by CTI Telematics Center, aimed to investigate the potential offered by social networking tools and platforms to those living in geographically and socio-economically disadvantaged rural areas;
- LLP/KA2 SONETOR: The main outcome of the project is the development of a special multilingual social networking platform, which will foster the development of a European community of cultural mediators.
- LLP/COMENIUS ESTEP: aims at developing a specialized training framework and supportive material for teachers around Europe on how to support, engage and motivate parents to utilize social networking systems in order to collaborate with teachers (http://estep-project.eu/ ).